Connecting COMPUSHIFT to ECUMASTER EMU Black
Introduction
This guide provides details on setting up a COMPUSHIFT Sport or COMPUSHIFT Pro to an ECUMASTER EMU Black engine management system.
These two systems are connected together using CAN bus, and signals like throttle position and engine speed are automatically transferred between the two units. No other connection is required.
Wiring Instructions
The CAN bus wiring kit supplied by HGM has two flying leads that must be crimped to the EMU Black connector pins and inserted into the appropriate position in the connector.
Here's the pinout diagram for the EMU Black: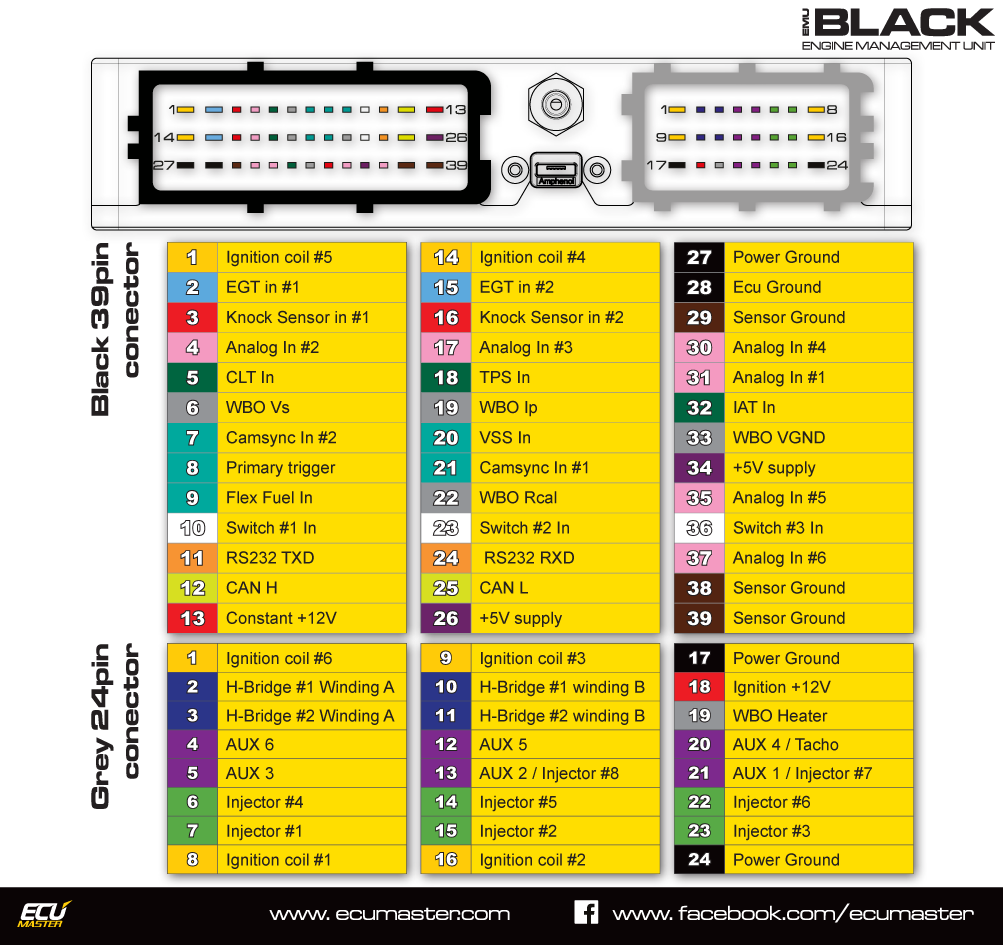 Pin 12 of the large EMU Black connector goes to CAN high, which is the tan/black wire on the CAN harness.

Pin 25 of the large EMU Black connector goes to CAN low, which is the tan wire on the CAN harness.

Once these are in place, the rest of the harness may be connected to the gray CAN connector on the COMPUSHIFT controller.

Ensure that both units are powered by the same switched ignition power so that they power on at the same time. Failure to do this will result in trouble codes on the COMPUSHIFT controller.
Setup Instructions
The ECUMASTER ECU must be configured to generate the necessary signals for the COMPUSHIFT controller.
Start the ECUMASTER software and connect to the EMU Black controller.

Go to the CAN, Serial Menu and select "CAN"

Configure the CAN bus speed to 500Kb/sec or 1Mb/sec, enable the 120 ohm terminator, and click the "Send EMU stream over CAN-Bus", leaving the "EMU Stream base ID(Hex)" at the default of 600. When you are done, be sure to use the "Make permanent" option from the File menu to save this configuration.

On the COMPUSHIFT Setup app or handheld display, navigate to the "Vehicle Setup Menu".

Ensure that the transmission type is set correctly.

Set the engine type on the COMPUSHIFT controller to "ECUMaster Black CAN"

Navigate to the Network Settings menu, and set the CAN bus 1 baud rate the same as you set in the ECUMASTER software, usually either 500 or 1000kb.
This should establish communication between the two systems.
Confirming Setup
Power cycle both controllers and start the engine.

Navigate to the dashboard on the setup app or handheld display of the COMPUSHIFT controller.

Confirm that the engine speed and throttle position are reading correctly on the display.

Confirm that there are no trouble codes on the COMPUSHIFT controller.

If any codes are present, do not drive the vehicle until the problem is resolved. Otherwise, you may damage your transmission.
You can diagnose CAN bus problems by going to Diagnostics / Network Diagnostics on the CS Setup App.
The CAN 1 Receive Count should be steadily increasing when the ECU's are communicating correctly. The error counts should always be 0.
If you do have errors, do confirm that the CAN bus baud rate is set correctly in Network Setup.
Related Articles